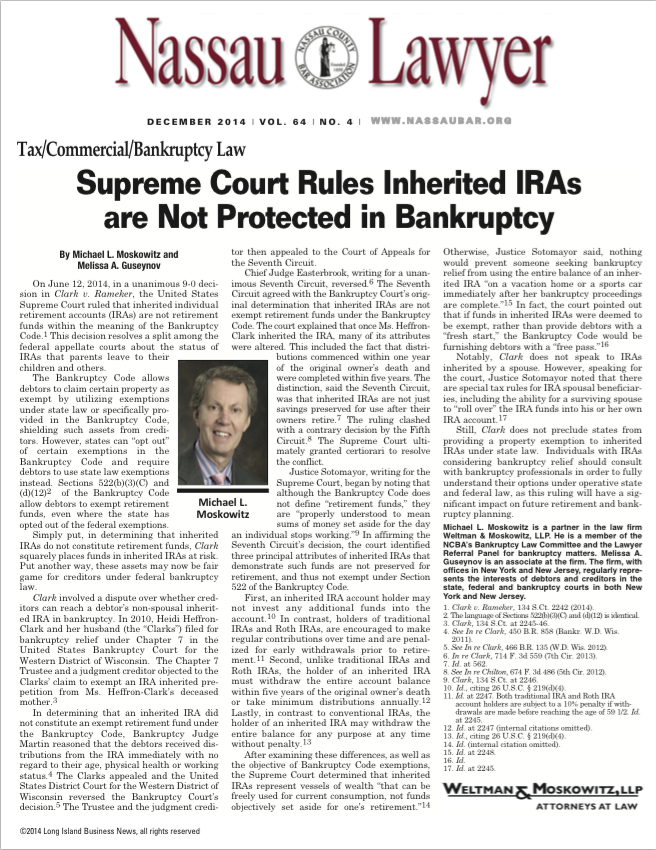 Partner Michael L. Moskowitz and Associate Melissa A. Guseynov co-authored an article published in the December 2014 issue of Nassau Lawyer. They discussed the Supreme Court deision that inherited IRAs are not protected in bankruptcy, a timely topic Weltman and Moskowitz has been following and reporting on regularly.
Read an excerpt of the article below.
Supreme Court Rules Inherited IRAs are Not Protected in Bankruptcy
By Michael L. Moskowitz and Melissa A. Guseynov
On June 12, 2014, in a unanimous 9-0 decision in Clark v. Rameker, the United States Supreme Court ruled that inherited individual retirement accounts (IRAs) are not retirement funds within the meaning of the Bankruptcy Code. This decision resolves a split among the federal appellate courts about the status of IRAs that parents leave to their children and others.
The Bankruptcy Code allows debtors to claim certain property as exempt by utilizing exemptions under state law or specifically provided in the Bankruptcy Code, shielding such assets from creditors. However, states can "opt out" of certain exemptions in the Bankruptcy Code and require debtors to use state law exemptions instead. Sections 522(b)(3)(C) and (d)(12) of the Bankruptcy Code allow debtors to exempt retirement funds, even where the state has opted out of the federal exemptions.
See the entire Nassau Laywer publication here.
About Weltman & Moskowitz, LLP, A New York and New Jersey Bankruptcy, Business and Creditors' Rights Law Firm: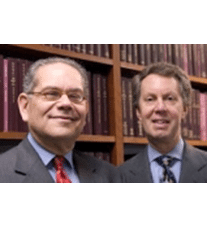 Richard E. Weltman and Michael L. Moskowitz Moskowitz co-founded Weltman & Moskowitz, LLP, in 1987. Weltman & Moskowitz, a business, creditor's rights and bankruptcy law firm, Weltman & Moskowitz serves clients throughout New York, Long Island, New Jersey, and beyond. The firm concentrates on creditor's rights, corporate reorganization, resolution of commercial disputes, loan workouts and modifications, shareholder and partnership disputes, business divorce, dissolution, business and bankruptcy litigation, arbitration, and mediation of all types. The firm also focuses on corporation, partnership, and limited liability company governance, and preparing and negotiating many types of secured lending, leasing, shareholder, partnership, buy-sell, consulting, technology, and joint venture agreements. Michael and Richard may be reached at (212)684-7800, (201)794-7500, or at mlm@weltmosk.com or rew@weltmosk.com. Melissa A. Guseynov, an associate with the firm, assisted with the preparation of this article.