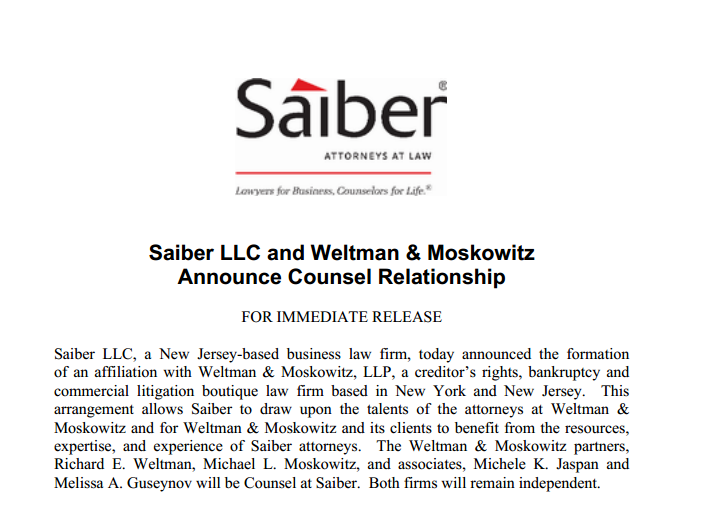 Founding partners Richard E. Weltman & Michael L. Moskowitz are pleased to announce that effective January 1, 2015, the attorneys at Weltman & Moskowitz have become Counsel to the New Jersey-based Saiber law firm. This alliance will allow both firms to develop new relationships and opportunities.
Saiber is a full-service business-to-business law firm with more than 60 attorneys focusing on commercial litigation, insurance defense, labor and employment, tax, trusts and estates, corporate and M&A, among others. Please think of us as a resource for any and all New Jersey matters. To learn more about Saiber, please take a look at their website (www.saiber.com). To view the Press Release, please click here.
About Weltman & Moskowitz, LLP, A New York and New Jersey Bankruptcy, Business and Creditors' Rights Law Firm: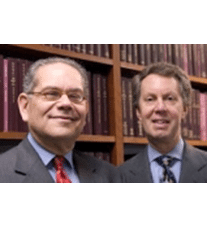 Richard E. Weltman and Michael L. Moskowitz Moskowitz co-founded Weltman & Moskowitz, LLP, in 1987. Weltman & Moskowitz, a business, creditor's rights and bankruptcy law firm, Weltman & Moskowitz serves clients throughout New York, Long Island, New Jersey, and beyond. The firm concentrates on creditor's rights, corporate reorganization, resolution of commercial disputes, loan workouts and modifications, shareholder and partnership disputes, business divorce, dissolution, business and bankruptcy litigation, arbitration, and mediation of all types. The firm also focuses on corporation, partnership, and limited liability company governance, and preparing and negotiating many types of secured lending, leasing, shareholder, partnership, buy-sell, consulting, technology, and joint venture agreements. Michael and Richard may be reached at (212)684-7800, (201)794-7500, or at mlm@weltmosk.com or rew@weltmosk.com.